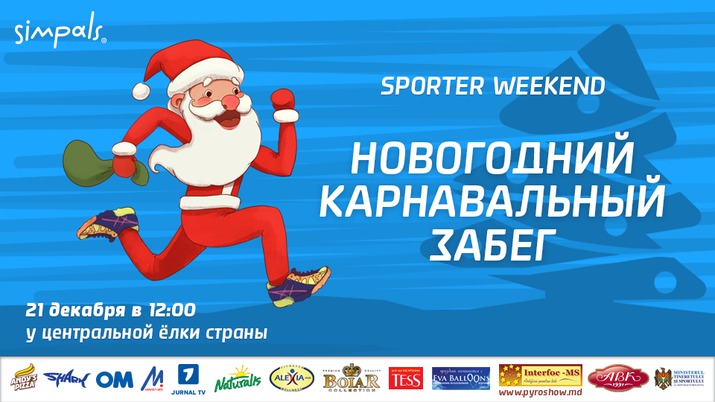 Winter holidays are rapidly approaching and everyone from little to old, are covered by the enchanting fairytale. In the National Great Assembly Square of Chisinau, stands crooked, but majestic Christmas tree and pupils, students and the majority of employees are eagerly waiting for the winter holidays. To keep the spirit of the winter holidays, sportive social network Sporter.md with the support of Ministry of Youth and Sports of Moldova announces the second edition of the Christmas Marathon on the main street of Chisinau – Stefan cel Mare Avenue. Spectacular event will take place on 21 December. Christmas Marathon of Chisinau is similar to worldwide Santa Claus Marathon. All interested children and adults, even babies (if mothers will take the trolley or dads) can attend the runs.
The single condition is the existence of a fancy dress. How exactly should it be? Here you can unleash your imagination and you can disguise yourself as Father Christmas, Santa Claus, Superman, as the goat – the symbol of the year that comes or, why not, as Boris Moiseev. It will be enough for you to wear a special garland, but remember that most original costume will be awarded.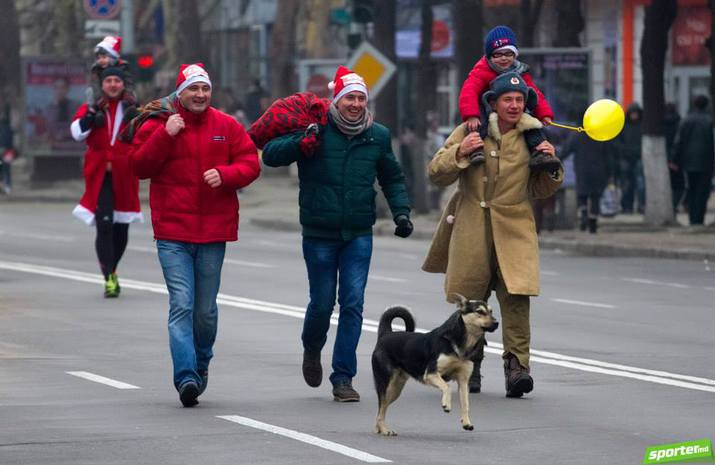 When you dressed the costume, come to National Great Assembly Square near the country's main Christmas tree, where at 12:00 will begin entertainment program with competitions, body art, master-classes supported by Alexia fitness club and certainly presents will not be missing. At 01:00 p.m., after incendiary heating by the trainers of Alexia fitness club, will be started the race. For an hour Stefan cel Mare Avenue will be transformed into a fairytale street with many surprises. All the participants will receive gifts from the elves – Santa's assistants. So what will you see? 3 km of magic: start and finish near the main Christmas tree, race from Stefan cel Mare Avenue to Ismail Street and back. Distance can be run (actually welcomed) or passed by foot; it is important to stay within the period of an hour. Each intersection hides a gift:
1. a balloon from Eva Balloons company
2. biscuits from Andy's Pizza
3. an invitation from Alexia fitness club
4. juice from Orhei-Vit
5. an apple from Orhei-Vit
6. package of tea from Tess company
7. a bottle of ОМ water
8. a candy from ABK company
9. a calendar for year 2015, specifying the Sporter Weekend competitions
10. biscuits from Boiar Grup company
11. a diploma of participation from maket.md company
12. fireworks of Interfoc-MS company
13. a medal-bagel at the finish line.
As we know, elves – Santa's assistants are making mischiefs and are preparing some unpleasant but harmless pranks along the entire route. However, the good always defeats evil, so all listeners shall not fear. After finishing, the festive program will continue. We will dance around the country's main Christmas tree, we will participate to the contests and we will sing the New Year songs. We welcome you on 21 December at 12:00 in the National Great Assembly Square. Come and let yourself be embraced by the enchanting atmosphere of celebration! Find the information about the first Christmas Marathon here.